Recycling is not only trendy, it's friendly for your wallet and even friendlier for environment. Everybody wins! However, have you ever thought about upcycling your wooden pallets? I bet you all have at least a couple of pallets lying around somewhere. The funny thing is, wooden pallets can be used incredibly creatively for making furniture. Not only will it look mesmerizing, it's interesting and will make all your guests ask: "Where did you get this?". If you have some unused pallets, don't burn them nor throw them out, instead take some inspiration from this list and make something cool! Here are 100 furniture items you could make with wooden pallets
1. Cabinets, worktables, shelves and storage compartments.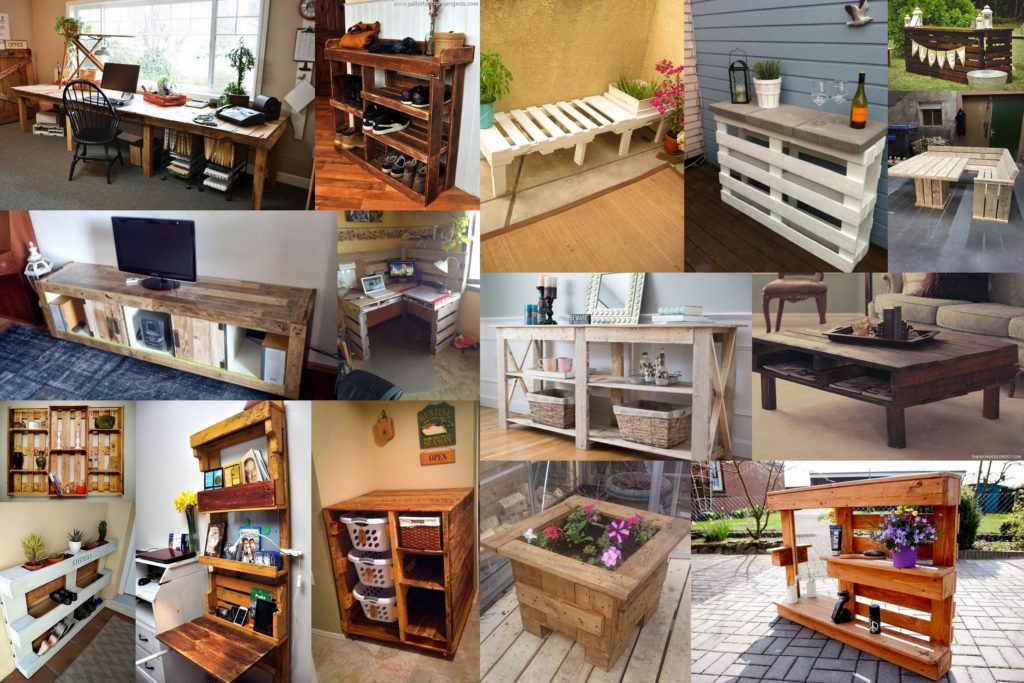 There are 2 distinctive perks that make wooden pallets such fine furniture base materials – the first being their great durability and load bearing strength (they are after all made for bearing over 1000 kg!), the second being their interesting build which can be used for your benefit when making compartment space. From coffee tables with some compartment spaces to shoe racks, worktables, benches and cabinets – you can make pretty much anything of wooden pallets! You can be sure that a shelf or a rack made of pallets will be much more durable than Ikea. True story!
 2. Coffee table of wooden pallets

This one is pretty obvious, isn't it? The flat wide surface is simply built for tables! Okay, well it might just be that's not what was in mind when creating pallet design but let's face it, pallets and crates make for fine coffee tables. Thanks to their relatively wide dimensions you can put together just one or two pallets, color and varnish them the way you like, perhaps add table legs (or wheels) and voila, you have one beautiful coffee table without needing any woodworking skills. Best thing is, it can cost as little as $10 to make this or if you already have varnish and color lying around in the house, you can make this with zero dollars. Just take inspiration from some of these photos and you can be sure you won't get it wrong.
3. Couches and sitting areas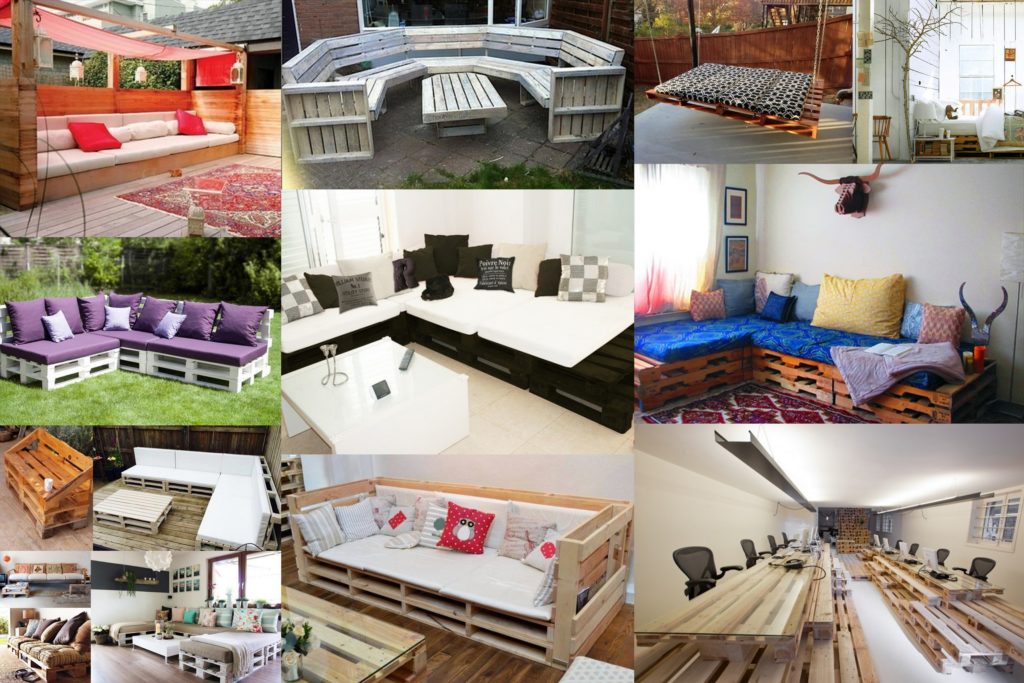 Similarly to coffee tables, pallets make for fine sitting areas – couches, lounges, benches, opportunities are endless. Just put them together, fixate and decorate with your favourite mattress and some pillows. It will look awesome and stylish in your living room or your terrace. Just keep in mind to varnish it nicely to ensure its' longetivity, just like with any other wooden furniture piece.
4. All-around awesome decor items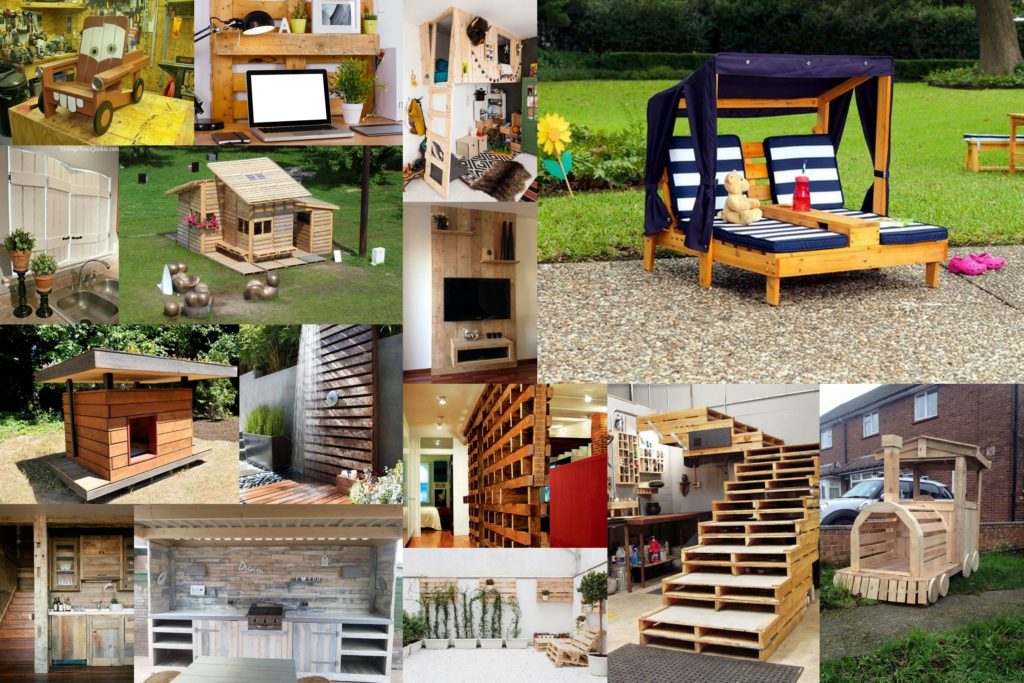 Creativity goes a long way, that's for sure. These pictures prove that point brilliantly – there's virtually nothing you can't make out of wooden pallets! Doggy and cat houses, stairs (!!), decoration items, beach chairs, outdoor kitchen, playhouses … It's still just a piece of wood but what makes it such a nice material for getting your creativity flowing is the structure – since wooden pallets are put together of wooden planks, the only thing you have left to do, is put those planks together. Better take that hammer and nails and start cracking!
5. Beds made of wooden pallets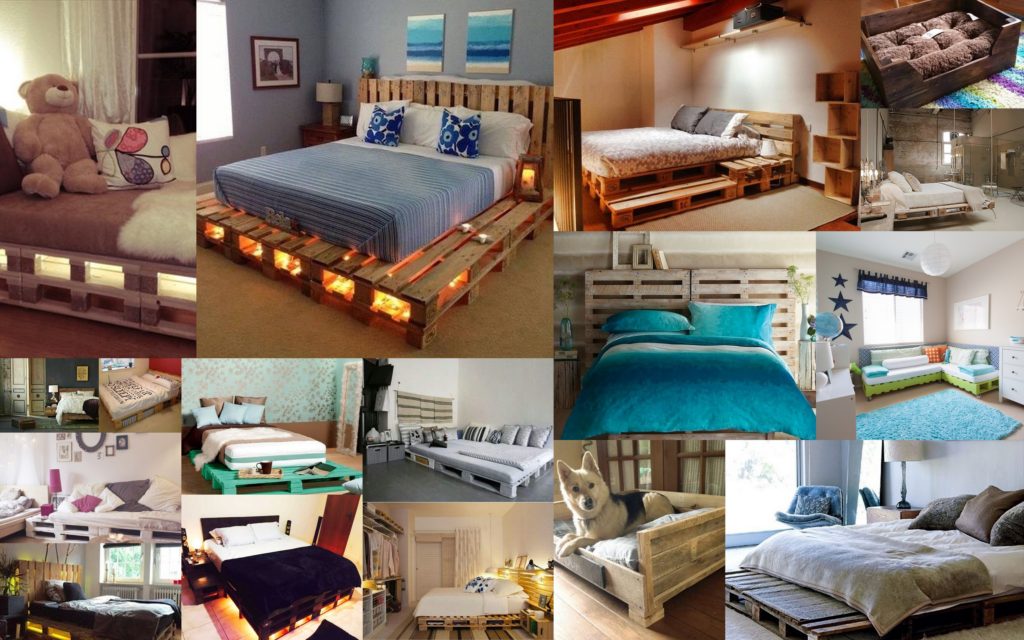 This is by far one of the greatest furniture categories you could make out of wooden pallets. No matter if it's a bed for your master bedroom, children or your pooch, wooden pallets are amazing when it comes to building a long-lasting, trendy looking bed frame. Durable, strong and functional, you can make a beautiful bed easily and won't have to spend a tiny fortune on buying a bed (nor will you have the worry of finding a bed with a decent size since you can put together as many pallets as you want). These pictures can definitely give you an idea or two on how to use the pallets to make a beautiful bed. You can even add some lights to make it look super romantic and cozy.
6. Hangers and wall decorations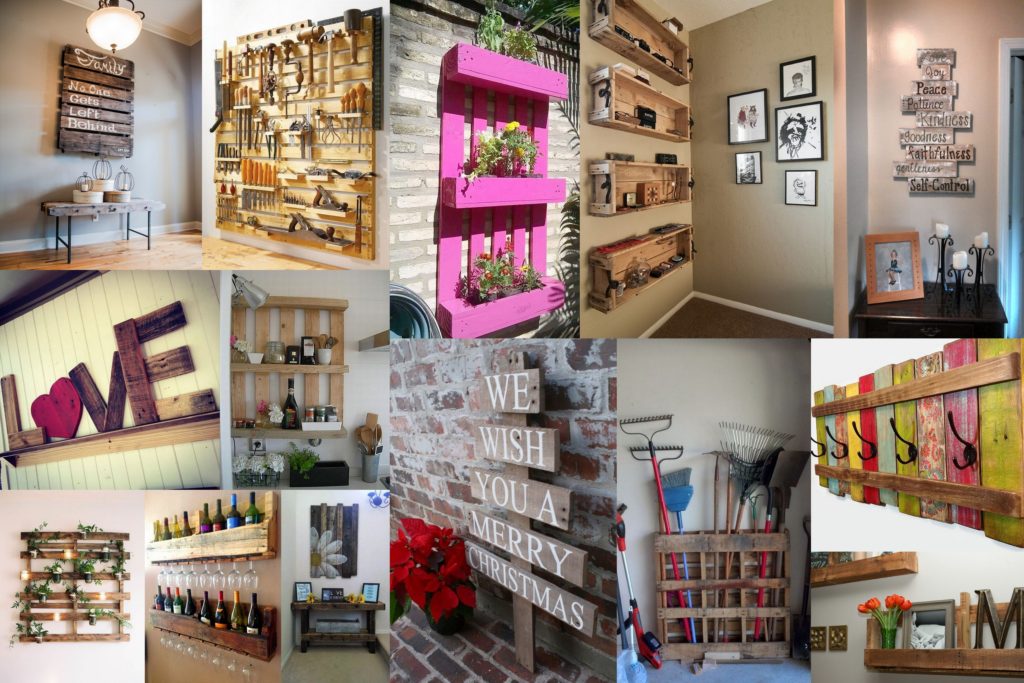 If you made a nice functional furniture piece already, you will definitely have some leftover planks from the wooden pallets. In that case, you don't need to throw those out since you can make some nice wall decorations or shelves just as easily. Just take a look at some of these examples – whether it's a christmas decoration, clothes hanger, just a nice inspiring wall sign or even a dish rack, you can use wooden pallets really for anything.
Have you made something awesome of your own from wooden pallets? Let us know down in the comment section and give others some inspiration as well!