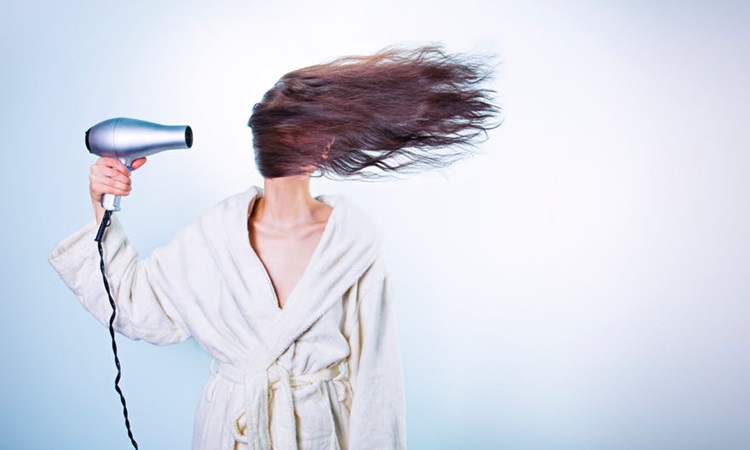 Spring weather is finally on its way!
The temperature is beginning to go up, the snow is melting away, and birds are chirping in the morning again. Even better, that means spring break is just around the corner, as are summer beach days.
The problem is, the winter weather has done a ridiculous amount of damage to our hair.
It's dull, dry, frizzy, and riddled with split ends.
Thankfully, there are tons of products out on the beauty market specifically made to repair damaged hair.
With so many options to choose from, though, it's hard to know which products really work and which are worth the money.
So, we've put together a roundup of the best hair products for repairing those split ends to save you the time and money wasted in the beauty aisle.
Moroccanoil has become a very popular designer hair care line that's affordable to just about anyone.
They sell really high quality products, and they can frequently be found on the shelves in hair salons and beauty stores with high-end hair care lines.
Moroccanoil is very well known for its treatment oils, which also happen to do an amazing job at repairing damaged hair, but their restorative hair mask does an astounding job of deeply penetrating dry hair with an intense amount of moisture.
The shea butter and protein in the restorative hair mask return the elasticity and strength back to strands that have been dried out and damaged by harsh conditions – hot or cold.
Simply leave it on hair for 5-7 minutes, and then rinse it away.
As a once or twice a week treatment, your hair will look good as new by spring!
Their 8.5 ounce jar goes for $43, but Moroccanoil also sells a 2.5 bottle for $18, if you'd like to save a little money.
If you haven't heard of Lush cosmetics, then you're really missing out on some amazing products!
Lush sells just about any beauty product you need, and they specialize in bath bombs.
Even better, all of Lush's products are handmade and made with natural ingredients instead of harsh chemicals, which would ultimately do more damage to dry skin and hair.
Their hair care products are really top notch. If you want a one-time repair product, then you should get Lush's Damaged Hot Oil Treatment. It comes in a little white bar, which you melt and then spread throughout your damaged hair.
The ingredients in the hot oil treatment include olive oil, almond oil, and organic avocado oil.
It even has real fair trade vanilla in it to leave hair smelling sweet and clean. This is a completely vegan product, so you don't have to worry about or question what you're putting in your hair.
The bar comes as a single size; but, it's so cheap, you could buy extra for the next time your hair is in harsh weather.
Wella is a hair care brand that has been on the top shelves of beauty stores for some time now. It's become a trusted brand that provides a high quality that many other brands don't give for the same price.
Wella's Luxe Oil Reconstructive Elixir is made of argan oil, almond oil, and jojoba oil, which help protect the ends of hair from additional damage and more split ends.
It's also infused with keratin, which repairs the cells that have been damaged by winter weather.
This is a leave in treatment, so all you have to do is squirt a small dollop in your hand, rub it between your palms, and smooth it into the ends of your hair.
$16 seems like a lot of money for a 3.38 oz. bottle, but a little bit goes a long way, and you shouldn't need to go through a whole bottle to fix your hair.
John Frieda has been around for a long time, and for good reason.
What started as a salon-level hair care products has been revolutionized into a very affordable line of products that are sold in both beauty stores and drug stores. Ask your mom; she probably used John Frieda products when she was younger!
The extra strength hair serum is made with silk protein to repair the hair that has already been damaged. It's also made with seaweed extract, which helps seal split ends and protect hair from humidity.
This means you can use it all through the summer, instead of just the winter, to fight frizzy and dull hair.
This hair serum only goes for $9.99, and it's really easy to get your hands on. You'll have enough cash left over to pick up some of John Frieda's other hair products to help keep your locks healthy year-round.
OGX has been a brand that's popping up all over beauty aisles in drug stores and salons. They have a plethora of products, and each is designed to target a specific problem.
They sell shampoos and conditioners, leave in products, and treatments, but their keratin repair oil is a God-send to anyone who needs to do intense repair on their broken hair.
Simply rub some of the repairing oil into your split ends for the keratin to do its healing work. The product is free of sulfates (which dry out hair even more), and it smells fantastic. In fact, all of OGX's products smell fantastic.
Plus, if you're into helping out the environment, OGX boasts super economical packaging: the bottles are made from recycled materials, they're printed with environmentally friendly ink, and the products are never tested on animals.
For $7.99 a bottle, you really can't go wrong.
Hopefully, this list has covered the exact hair repair product that you're looking for. Whether you have $10 or $50 to spend, you're bound to find a brand and treatment that will make all of your winter hair woes disappear!