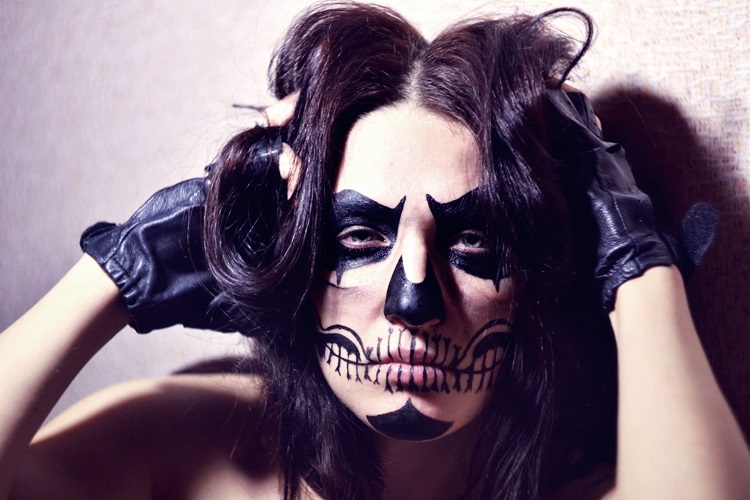 With Halloween knocking behind the door, most of us are probably already wondering about what to wear on that spooky eve. However, with the busy lifestyles we have on a daily basis it can be rather difficult to make preparations for Halloween. So, what do if you are invited to an Halloween party but you completely forgot to prepare for make-up or you just didn't have time to get yourself the spookiest and most over the top makeup?
Solution is simple: go with one of these last minute Halloween makeup ideas that are not only incredibly easy to make but don't cost a fortune so you don't need to worry about spending much on the costume. In fact, most makeups can be done with the products we already have, therefore you might not need to spend at all!
For the perfect Halloween makeup, all you need is some creativity and some basic products like eyeliner, lipsticks, foundation etc. It would be better if you had a variety of whites, blacks and reds – the mysterious "halloweeny" colors. If you have some white and black, you can easily cover your face with white coloring and draw a spiderweb or a stitched mouth. Though such easy solutions, they look great and rather spooky! Together with the right outfit you'll still have a rocking look, even though you know it was rushed.
So, dig deeper to this list and find your perfect makeup. Remember, good Halloween makeup doesn't necessarily need to be extreme so you can bet you won't find any extremely detailed ideas here – no Sugar Skulls, special techniques or spectacular products, just your good old makeup set and that's it.
Without further ado – here are 16 of the finest simple Halloween makeup ideas that should get you equipped and inspire you to create your very own last minute Halloween makeup.